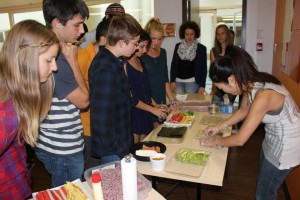 Montreal is considered the gastronomy capital of Canada.  Second to New York City, it has the most restaurants per capita.  In Montreal there are over 6000 restaurants, so you can get a taste of cuisine from around the world!
Through the different gastronomy sessions at EC Montreal you can learn the secrets of world famous cuisine while developing your own culinary skills in an English or French environment.  These hands on sessions will give you the skills needed to become a Montreal chef in your own home!
You can find some sample sessions below:
World Cuisine:
Your taste buds are going to travel to Japan, Italy, France, Thailand & Spain!
2 hours of cooking followed by 1 hour of eating!
Follow the Chef to the market:
Do the grocery with the chef at the market, cook and enjoy!
1.5 hours at the market, 2.5 hours of cooking and 1 hour of eating!
Pastry Delirium:
In love with pastries? Cupcakes, macaroons, cookies are waiting for you!
2 hours of baking & beautiful cake box to go!
Fancy Tapas:
Learn to make the most festive little bites!
2 hours of cooking, 1 hour of eating!  Includes 2 glasses of wine!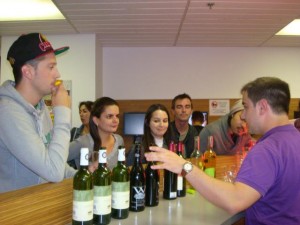 Cocktails:
Learn how to prepare your favorite cocktails during an original and friendly happy hour!
2 hours of preparation & 3 cocktail tastings!
Mixology:
Under our mixologist's supervision, learn how to prepare classic cocktails and invent your own version.
2.5 hours of preparation & 4 tastings!
Cocktails Passport:
A country, a liquor, a brand, a cocktail…follow our daily destination… Rum to Cuba, Tequila to Mexico, Gin to England…
2.5 hours of preparation & 3 tastings!
A visit to Montreal would not be complete without participating in EC Montreal's English or French plus Gastronomy Programme!!
Comments
comments