Our student ambassador, Mishal, couldn't wait to tell us that when he was dining at a local eatery in Montreal called 5 Guys, he came across a special message on their cork board.  Right in the centre of the board was the message " EC Montreal heart, heart, heart…".  He took a picture of the board and emailed it to us!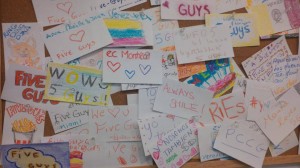 He was so proud to see the message and so proud to be part of the EC Montreal community!  We were delighted to hear this and we all cheered and felt the same pride to be part of a wonderful organization like EC!
Thank you to whoever left the message and we want you to know that we love you too!
Comments
comments