Last Friday, the director of admissions, Tony Lomanto, gave a presentation to EC Montreal students.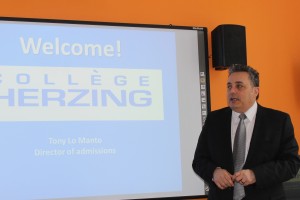 The presentation included a history of Herzing College and pointed out how they are recognized by the Ministry of Education and graduates can obtain a DEC, Diploma of Collegiate Studies and a DEP, Diploma of Professional Studies.
Tony gave a brief description of all the different programmes offered at Herzing.  Among them are Business Administration, Health Studies, IT, Web Design and many others.
One of Herzing's admissions requirements is proof of English language proficiency.  They require an IELTS score of 6.5.  However, as EC Montreal and Herzing College are pathway partners, students who have achieved an EC level of Upper to High Intermediate will be exempt from passing the IELTS exam.  They will automatically be granted admissions.  EC Montreal students will also benefit from a registration fee waive.
EC Montreal offers private lessons in English, should you wish to speed up your learning journey to become eligible to attend college sooner!
Herzing College will be representing at many study fairs around the world and will be promoting its partnership with EC Canada schools.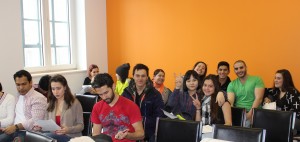 EC Montreal students asked Tony many questions about Herzing programmes and appreciated this opportunity to learn more about the education system in Quebec.  A group of students stayed behind and continued to discuss the different options available to them as they wish to immigrate to Canada.
Comments
comments