Anthony Blin is part of the French school group studying in our General English programme.  Yesterday was his birthday and his school buddies came to see us to ask if they could join us when we surprise him in class to sing happy birthday to him.  They had gone down to the dollar store and purcahsed party favors and a happy birthday sign.  Everyone was so touched by how considerate they are and how much they care about one another!  Anthony is really enjoying his stay at our EC Montreal English language centre.  He doesn't want to leave!  Here is what he would like to share with all of you: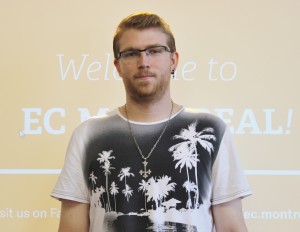 I have chosen this destination because it's a bilingual city. I improved my English skills by speaking English with other students.
I love this new experience, EC is incredible!!  Everybody is so kind and we can meet a lot of people.
I love this school!
Comments
comments