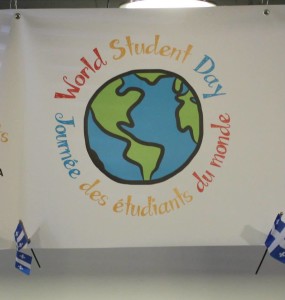 Last Friday, August 8, EC Montreal participated in an annual World Student Day celebration.  This initiative was intended to thank our international students who come from all over the globe for choosing Canada to learn English or French.  Below is a message for our students from Languages Canada's executive director, Gonzalo Peralta:

World Student Day is an event that Languages Canada members have long been hoping to hold, and I am so excited that it is finally here.  This is an event that celebrates you, our students, and to say thank you for choosing Montreal, Canada and the program you are attending. 
Learning a language is such an important step in expanding your horizons, in opening the doors to your educational and professional paths, and in building relationships not only now, during your stay with us, but for your whole life.  At some point later on, when you are speaking English or French with a new friend, classmate, colleague, or even maybe a family member, think of your time here, of your investment in yourself and the positive efforts you made to grow. 
Learning a language can be difficult.  You have to make an effort, and you have to be strong enough to be vulnerable.  But the rewards are amazing.  Every day I experience the joy of being able to speak in English and French in my work and socially, and I can't imagine a life now where I couldn't communicate with all these wonderful people, where so many doors would be shut for me. 
Many people in Canada support your journey – the program directors, the school staff, the recruiters, the teachers, the staff at Languages Canada, Canadian government officials, your homestay families, and others.  We all want you to have an amazing experience in Canada. 
It is a privilege to have you here with us in this important part of your life journey.  It is an honour to have your trust, and it is a joy to also learn from you. That's why we organized this  day, to say thank you to you, our students, and to celebrate your stay with us. 
 Gonzalo Peralta 
Executive Director 
Languages Canada 
Comments
comments