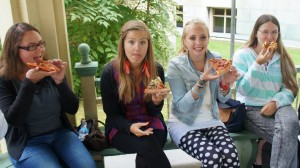 Every August, EC Montreal's Little Italy hosts a event called Italian week.  Every day for an entire week, there are events and festivities taking place.  There are fashion shows by Italian designers, Italian movies in the park, food competitions, car shows, musical performances and much, much more!
The Italian community is quite large in Montreal.  The last Canadian census had over 300 000 Italians living in Montreal!  Montreal's Little Italy is quite charming!  The restaurants and pastry shops are top notch!  Whether you are in the mood for a simple pizza dinner or fine dining, you will find the perfect spot!
On Sunday, August 16, EC Montreal will organize an activity for our students.  We will visit Little Italy and take in all the festivities taking place on Saint-Laurent Boulevard.  Italian week always ends with an opera performance.  We are in for a real treat this year!  The Opera that will be performed is Puccini's Madame Butterfly!  The stage will be set up right on the street and spectators are encouraged to bring their own chairs or blankets to watch the hauntingly beautiful show!
Our students will be able to take in the wonderful aromas coming from the street vendors!  There will be pizza slices, Panini sandwiches, cannoli, pastries, cookies and gelato for sale!
What a wonderful Sunday evening we look forward to in Montreal!
Comments
comments