Fukasawa Yoshitaka is a student from Japan who works for Hitachi.  He is part of a small group studying with us at EC Montreal specifically for Hitachi.
Fukasawa is taking General English lessons and in addition has customized lessons where the focus is on presentations.  When he returns to Japan, he will need to present to his employer at Hitachi.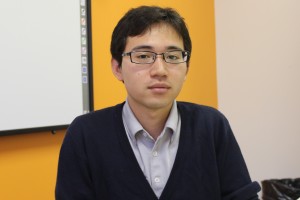 I am enjoying learning English at EC Montreal.  My company told me to learn English in Montreal.  At this school I learned a lot of grammar, vocabulary and conversation.
I went to New York with the school and it was very fun because Marcus, the tour guide, speaks Japanese.  He really made our trip better!
I really liked my teacher Melissa's lessons the best.  She didn't use difficult words.  Her English was easy to understand.  We had a lot of games during her lessons.  Also, she is a really good singer.
My accommodation is very good, especially dinner.  I have tried many new types of food within these 6 weeks.
I will recommend EC Montreal to my friends.  My experience in this school is very good.  My speaking improved very much.
Comments
comments