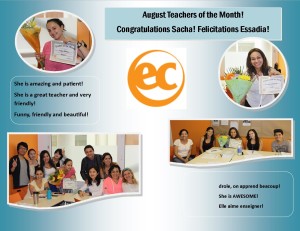 Today, EC Montreal surprised our two teachers of the month.  Students have a chance to vote for favorite teacher.  They fill out a ballot that simply asks "who was your favorite teacher in August and why".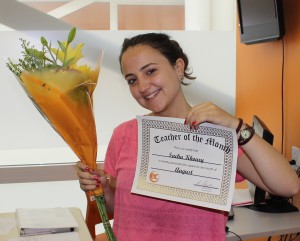 It always makes us so happy to read all the positive and warm comments left by our students about their teachers.  The teachers play such an important role in the student experience.  We are so proud of the tremendous impact they have on our students' academic journey.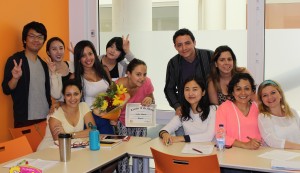 Sacha was voted our English teacher of the month.  This is her first win at EC Montreal.  Essadia was named our French teacher of the month.  This is Essadia's second win.  She was our first teacher of month back in March.  We surprised them both this morning with a special EC teacher of the month certificate as well as a beautiful bouquet of flowers.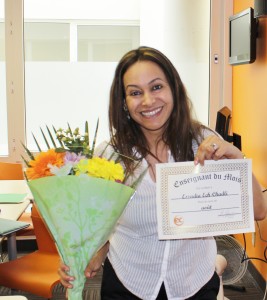 Congratulations to our winners and thank them for their incredible passion and dedication to EC.
Here are some of the comments our students made about our wonderful EC Montreal teachers: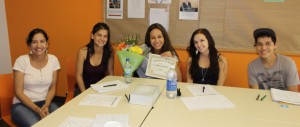 Charismatic.
Kind person.  Her classes are relaxed and funny!
Patient.  Is very kind.  Her classes are so funny!
She is the best teacher because she is very nice, patient and funny!
Interesting classes, fun and really nice!
Because she is amazing and patient!
Elle est très pedagogique.
She's a great teacher.  Also, very friendly.
Because, is an amazing teacher!
Drôle, on apprend beaucoup!
Drôle, funny, very much energy.  It was fun to be in her lessons.
She is AWESOME!
Nice, you learn a lot.
Friendly, funny – a lot of fun in class.  You learn a lot.
In her class, we can have conversations!  She is so nice and friendly
I like British English.
Interesting, creative and beautiful!
Because her class is very nice and funny.  Teacher enjoys teaching and transmits.  I love her class!
She explains so well!
Good pronunciation.  Good teaching!
Kind.
Good explanations.
She's good!
Elle est très agréable.
Because she is an excellent teacher !
I like him class.
He is cool!
He's funny!
Good teacher!
Good teaching!
Good teacher, excellent teacher!!
He teached well.  organize.
He is a good guy!
Motivation
Very motivating!
Very enthusiastic teacher!
Because yes
He's the coolest teacher ever!
He's funny!
Funny, friendly and beautiful! 
Pourquoi pas?
Elle est très jolie et elle aime enseigner.
He's the best ever !
She makes me feel secure and confident!
Speech is really clearly.
I have learned too much with him.  He's so smart!
She's very good.
Interesting, logical and kind.
He presents his topics very interesting and encourages us to speak all the time.  The lessons are never boring.
Structured and effective teaching.  Entertaining and varied.
Comments
comments