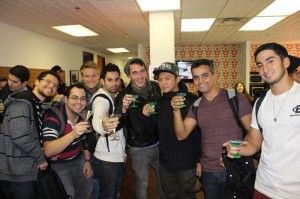 In keeping with our apple a day theme, EC Montreal held its annual appletini bar event today!  We created our own version of the very popular apple martini cocktail!  First thing, we made it a mocktail – no alcohol.  We replaced the apple flavored vodka and vermouth with white cranberry juice and sour apple mix.
Our student lounge is the perfect setting for a bar activity!  Students gather around our breakfast bar and wait to be served.  Our team plays bartender – always ready with a big smile!
This was the last of our apple themed activities.  We will, however, continue to hide an apple a day until the very last day of September!
We look forward to our Haunted Oktoberfest theme next month!
Comments
comments