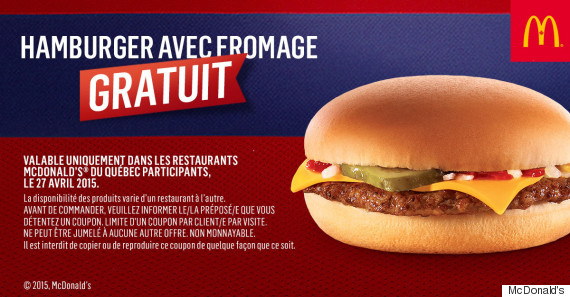 McDonalds wants to help you celebate the big Habs win last night!  The Montreal Canadiens successfully eliminated the Ottawa Senators from the playoffs!  The Habs will be entering round two of the playoffs soon!
The entire city of Montreal is cheering on the Habs!  It's an exciting time to be in Montreal!  Everyone is wearing Habs jerseys, caps and waving their car flags.
McDonalds is offering free cheeseburgers to everyone who presents the coupon above.  The offer is today only so don't miss out on this freebie!!
The closes McDonalds is right on Ste-Catherine Street, only a few minutes away from EC by foot.
Being an FSL and ESL in Montreal student has never been more exciting!  Let's hope the Habs make it all the way to winning the Stanley Cup!
Comments
comments