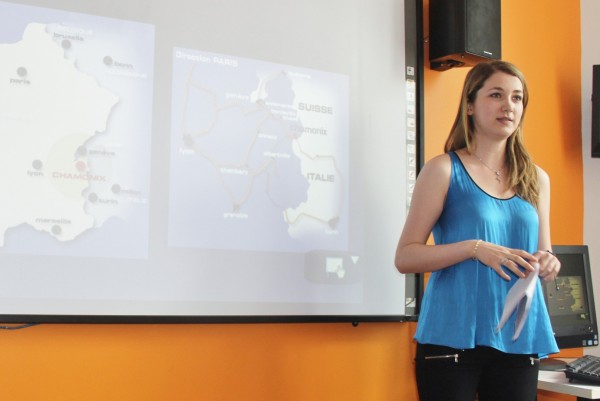 Julie Morel is a student from France participating in EC Montreal's IELTS preparation course. Today she gave a presentation as part of EC Montreal's academic student lecture series.  We ask our students to present something they are passionate about or they are experts in.  She chose to talk about a town in the French Alps called Chamonix.
Chamonix is a resort area near the junction of France, Switzerland and Italy, is renowned for its alpine skiing. It's at the base of Mont Blanc, the highest summit in the Alps. Year-round, cable cars take visitors up to several nearby peaks with panoramic views, including Aiguille du Midi, Pointe Helbronner on the Italian border and Le Brévent.
She explained that she doesn't live in Chamonix but she visited the town with her school when she was 11 years old.  She fell in love with the town and as a result has convinced her parents to take family vacations in Chamonix every year.
Chamonix is known as the land of freedom.  They offer so many sports like skiing, paragliding, parachuting and climbing.  There are no trails on the mountain so they call it freestyle.  Skiers ski at their own risk.
Julie showed us many images of this picturesque ski town and described the many activities and nightlife it has to offer.
Julie gave a stellar presentation!  We are so proud of her achievement!
Whether you want to learn English or learn French in Montreal, EC will give you the confidence you need to give a stellar presentation!
Comments
comments