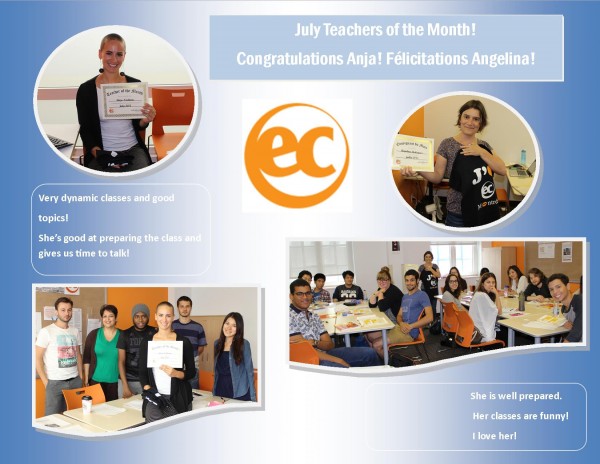 The ballots have been cast and the winners have been announced.  Anja Novkovic and Angelina Rodriguez have been named our July teachers of the month!  Both teachers were recently hired so we are thrilled for them!  The students appreciate all that they do to ensure our students have a great student experience!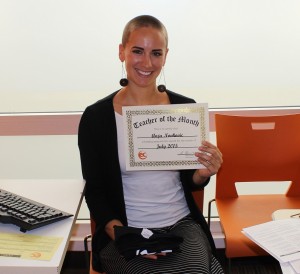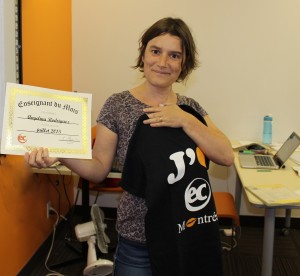 We surprised both Anja and Angelina in their class today and they were delighted to hear this news.  Their students posed proudly with their teacher of the month! They are so happyto be taking a French or English course with our most popular teachers!
We received so many votes from our students who left the most wonderful comments about their teachers. We are happy to share them with all of you: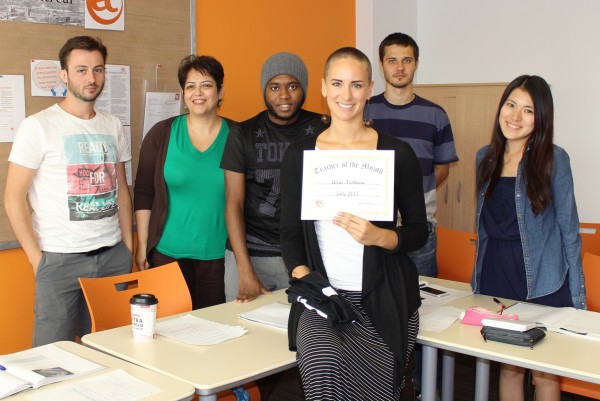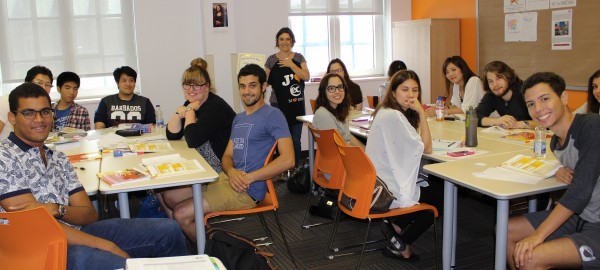 Because I learned a lot in his classes.  He takes care of you and he helps you to improve our English.
I like her classes.  I learn a lot with her methodology.
Her classes are interesting and also time passes quick with her.
We talk a lot and we watched Harry Potter.
Creative ways of teaching, feeling of improving, shows interest.
I learned a lot.
She's good at preparing the class and gives us time to talk.
Very dynamic classes, never boring and very prepared.
Because she's great.
She explains well and her class is good.
Elle est très intelligente et elle parle Anglais aussi.
He's really efficient.
Elle est une professeure très sympa.
Il prend son temps pour expliquer tout et il est très gentil.
Grace a lui, j'ai appris beaucoup de français.
Elle est une très bonne prof.
Elle est très bonne prof.
Elle est la meilleure !
Elle est dynamique.
Elle explique la grammaire très bien et avec des exemples.  Elle explique trop de temps en temps.
He is attentive.
Explains really well.
He is a very successful teacher.  I love Frederic.  I don't feel bored.
I like his class.  I am never bored.
Their class is really connected.  It's good education way for me.  Thank you!
I like his teaching.
He is very funny.  We discuss many interesting issues.
Elle est gentille est joyeuse.
I understand everything she explains.  He's nice and respectful.
She is smart, creative and uses a lot of strategy in business class.  I like so much her class.
Les classes sont très intéressantes.
He's always happy and he loves his job.
She is well prepared and her classes are very funny.  I love her.
Very enjoyable class.
He's very helpful.
She is so friendly and listens to our needs.
He is kind.
Her class is fun.
She always asks me about the class.
She is a real professional.  She gave us her time to explain every topic and her skills as a teacher are awesome.
She always wants us to improve in different ways.
Very dynamic classes and good topics.
Comments
comments