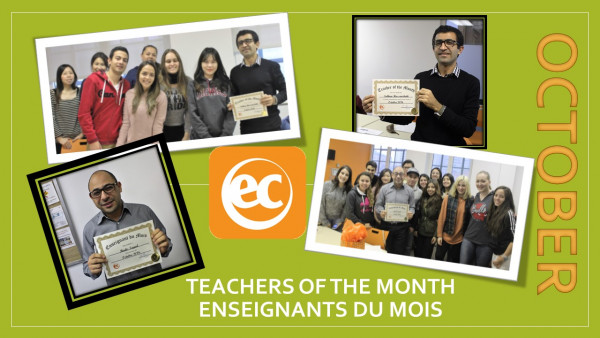 The ballots have been counted, the results are in, we have named our October teachers of the month!
We are delighted to announce that Sobhan has been named our English teacher of the month and Badis received the most votes from our French students!
We surprised them in their class this morning with a special teacher of the month certificate and gift of appreciation.  Their students were so happy for them.  They cheered them on and proudly posed for a group picture.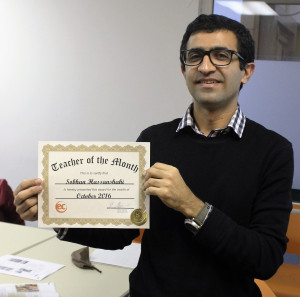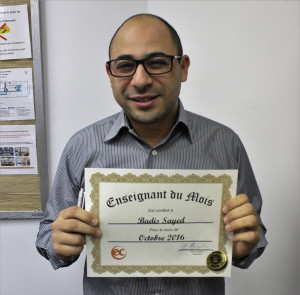 It was wonderful to see so many students vote for their favorite teacher and to read all the amazing comments left by the students.  A world of thanks to our dedicated team of teachers who all received votes from our students!  We continue to be blown away by your passion for teaching and your incredible energy.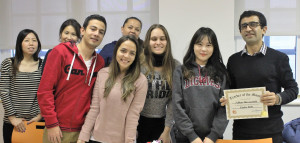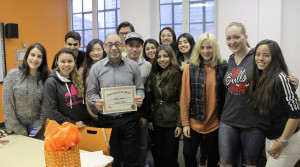 We are delighted to share all the student comments with all of you:
Her explanations are very clear.
J'aime le méthode d'ensiegnement.
Elle fait des courses très intéresents et elle a good attitude and mood.
He is really funny.
Parce qu'il est energique et amusant.
Parce qu'elle est gentile.
Très sympa.
Il est toujours là pour ses étudiants et il est un tellement bon prof!
Très sympathique, toujour pret à aider les etudiants!
Il prepare bien ses classes.
She is very engaged with her work and is really helpful!
Très amusant.
Très dynamique.
Très drôle et très bon professeur.
Because she is funny and happy.
She makes me smile.
J'aime la leçon avec elle et elle est très sympatique.
Elle est beaucoup patient.
Car elle explique les choses très bien.
She teaches in a great way.
His classes are fun.
Son classe est très dynamique.
He is kind with the students, making the learning process easier and comfortable.
Parce qu'elle explique tout très facil.
Très positive.
Agréable, intelligent et super drôle.
Elle s'exprime très bien.
Il est très gentil et amusant.
Because she explains really good and takes care of her students.
Elle a toujours un bon caprice, humeur.
Toujours une sourire sur le visage et elle explique les choses très bien.
Il est très drole et les classes ne sont jamais ennuyeuses!
Dynamic Classes!
He is a very good teacher!
It's a wonderful person!
The best teacher!
She is so kind!
She is always smiling!
Best teacher ever!
She always chose interesting topics!
She is perfect!
Patient, funny and very dedicated!
He is calm and friendly!
Awesome teacher!
He has the best explanations!
Good teacher!
He makes us study hard!
She is very friendly!
She teaches in a way we always understand!
She is kind!
Her classes are always amazing!
Follow the link if you want to take English or French Classes in Montreal 🙂
Comments
comments