Chinatsu Nosaka is a student from Japan who came to EC to learn English in Canada.
Here is what she would like to share about her English courses at EC Montreal: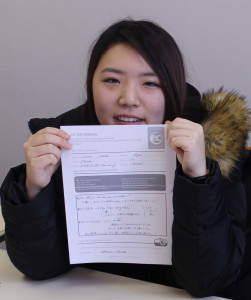 What did you like the most about your accommodation? My host mother! She is very kind, and she also respects my privacy because I get alone time at the end of the day. Sometimes she gives me desserts and treats, and they are delicious. She's such a nice person.
My favorite teacher is Don in the get talking conversation class. Not only is he very kind, he's also very humorous. He is very close to the students and I like that. My other favorite teacher is Mohamed, because he is very kind and passionate about teaching.
My favorite EC activity was laser tag. I didn't know how to play it at first, but I got to make friends with students from other classes that I hadn't met before. Although it's been a short amount of time, I had so much fun!
Chinatsu Nosaka
Comments
comments