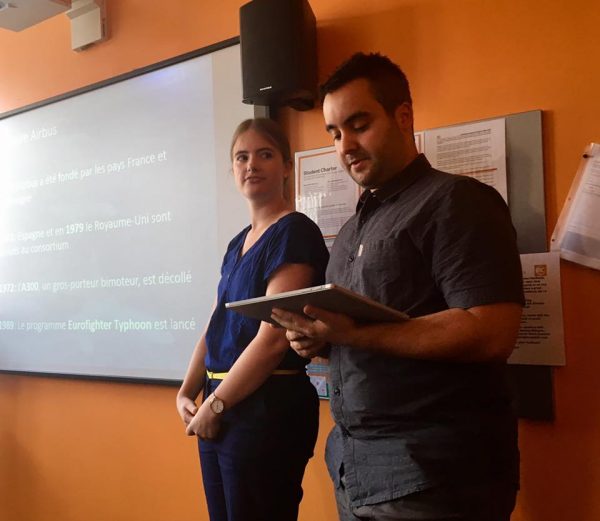 Lena Stendel and Rico Schwarzback are French students participating in EC Montreal's French Intensive Programme.  Tomorrow is their last day at EC and before leaving, they wanted to prove that they can deliver a great presentation in French and boy did they deliver!  What a stellar presentation they gave on their employer, Airbus.  Both Lena and Rico work for Airbus and in Germany, you can get any educational trip sponsored for 5 days per year.  They chose to use their time improving their French at EC Montreal!
Lena and Rico presented together.  They gave information on Airbus as a company and went through each aircraft individually about when it was created and the characteristics of each plane.
They then compared Boeing with Airbus and told us to pay very close attention as they would be quizzing us on these differences.  The main differences, that I could remember, was Boeing has a more pointed nose and rectangular windows whereas Airbus has a rounded nose and round windows.
The quiz was fund and everyone played along trying to guess the right answer when the different images of the planes were shown.
They answered questions from the audience brilliantly.  One of the questions was regarding the life-span of a plan.  The answer was very interesting!  They explained that a plan can be used up to 20 years for commercial passenger use and then another 20 to 40 years for cargo and other purposes.  The lifespan is about 60 years!  Another question was related to the cost of a plane.  The formula is roughly 1 million euros for every square ton.  One of the smaller planes is about 140 tons, so the price would be approximately 150 000 000 euros.
Congratulations to Lena and Rico for their stellar presentation!  You should be very proud of this achievement!
Don't forget to check out our Montreal English school !
Comments
comments