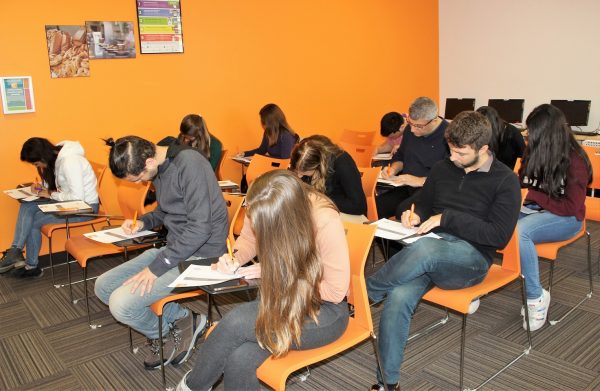 Every week, EC Montreal holds a focus group with a group of students departing from different parts of the world who are here participating in the many different programmes offered by EC.  The purpose of the focus group is to get as much feedback from our students as possible about their EC experience.  This feedback helps us to improve our services and implement changes at the center level.  These conversations with students and reading their feedback is what sparks our creativity and gives us wonderful ideas of things we can be doing differently.
Today's session with students included students from Brazil, Turkey and Belgium.  Here is what they had to say about their experience at EC Montreal:
Oguz Baskurt From Turkey
I came here from Toronto for I wanted to see Montreal before going back to my country.  I stayed in Ontario for almost 8 months.  I tried lots of EC activities such as meeting before the beginning of classes.  I like EC Montreal more than EC Toronto because there aren't a lot of Turkish people and I don't have to speak Turkish.  I haven't been to many activities at EC Montreal.  I will recommend EC to my friends.
Carolina Cabral From Brazil
I chose this destination because my husband stayed here 4 years ago and liked it a lot.  I think it was a good experience for me.  I could improve my English during the 3 weeks.  I think EC is a good school with good teachers and I would recommend it to a friend.  I preferred the Monday, Wednesday and Friday classes because I could learn more grammar and vocabulary together.
Carollyne Melnik Lucas From Brazil
I chose Montreal because it is a multi-cultural city and also my aunt lives here.  I learned English and I could improve some skills.  My favorite EC activity was the "make your own cupcakes" because it was fun.  I liked the school and the lessons because I have 4 different and good teachers.  I made good fiends from all over the world.  This is the best part!
Nanou Oversteyns From Belgium
I chose Montreal because it was a place i have been before far from home.  It was new adventure.  Overall, I like the classes but it is hard to communicate with people who have such different accents, especially in a language that is still new.  The accommodation where I stayed was La Marq Residence.  It was very nice, nice people, clean room and enough kitchen supplies.  I don't know if I have improved a lot, I more refreshed my French.  It is hard to speak French if everybody speaks English around you but I would recommend this school to other people.
Take our English courses in Montreal!
Comments
comments