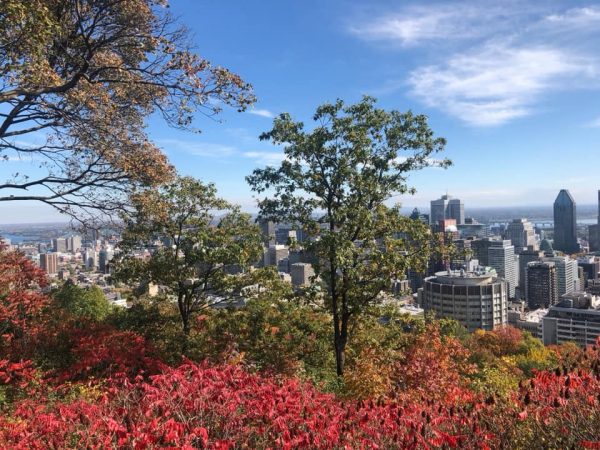 Autumn is definitely one of the best seasons to be in Montreal!  There is nothing quite like summer time in Montreal, however, there is something very special about the fall.  The maple trees bursting with colors creates the most beautiful setting for any activity you choose to do in Montreal.
We recently celebrated Thanksgiving in Canada and had a long weekend to enjoy.  I decided to make the most of the good weather and spent a lot of time outdoors.  I wanted to share some of the activities to give our current and future EC Montreal students ideas on how they can spend their time in this magical city.
It is a wonderful time of year to join and learn English or French in Montreal as there is so much to do and your photos will look like postcards!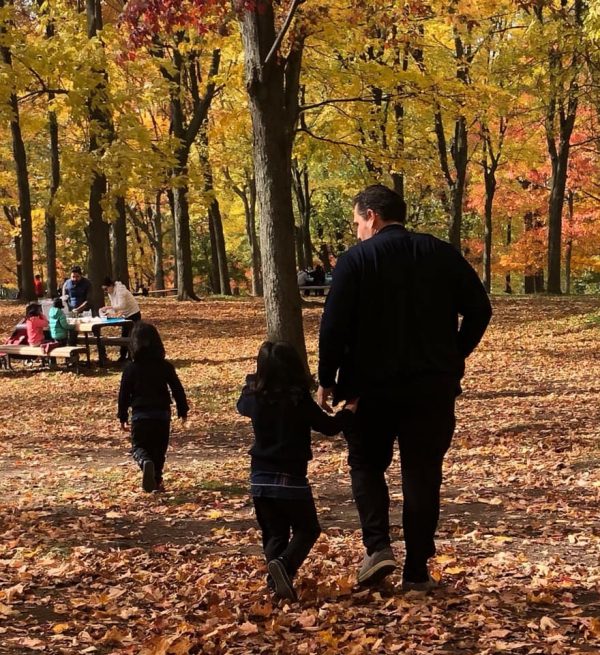 The weekend started with a hike up Mount-Royal on Saturday morning.  We arrived early and the sun was shining down on the beautifully colored trees.  The air was crisp enough to require a sweater or light jacket.  It is the most comfortable weather to do physical activities outdoors.  We made it to the top of the mountain and were greeted by the most spectacular view of the city!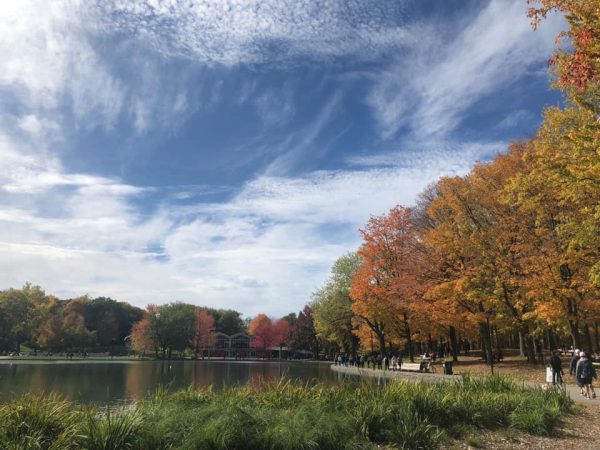 We walked back down and took a stroll around Beaver Lake, the man-made lake right in the center of the Mount-Royal park.  There were so many families picnicking, sunbathing and cycling on the mountain.  We walked through the woods and picked the most beautiful red and orange maple leafs.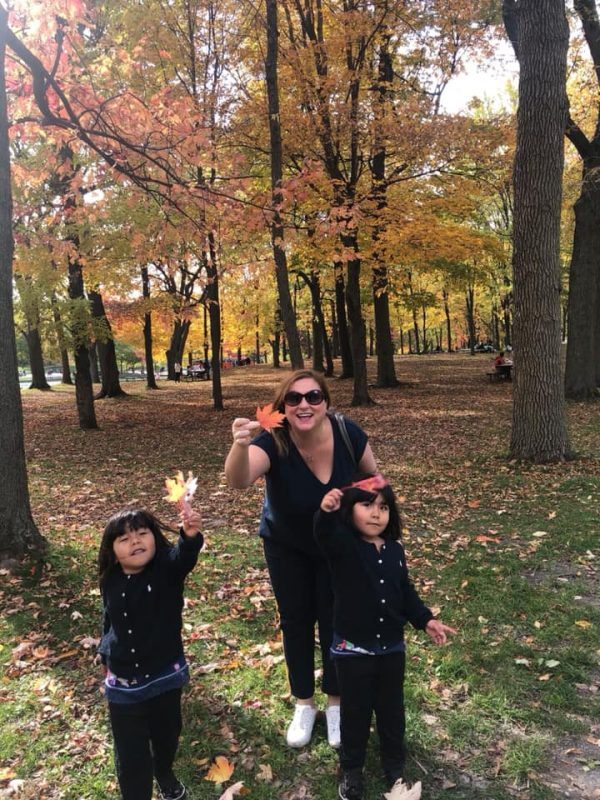 After all this physical activity, we grew quite the appetite!  We headed to the Main street, St. Laurent boulevard, to the famous Schwartz's deli for lunch!  Everyone had the same idea as there was a line up with hundreds of hungry people!  We waited patiently, our mouths watering at the site of those already enjoying their delicious smoked meat sandwiches, a Montreal must-have food!  Montreal is known for their smoked meat sandwiches, recipes dating back to the 40s from Romanian immigrants.  We finally made it to the check out counter and placed our order for smoked meat.  I recommend the medium cut that is not too fatty but packed with flavor!  The sandwiches looked a mile high!  It took many napkins to clean up after every yummy bite!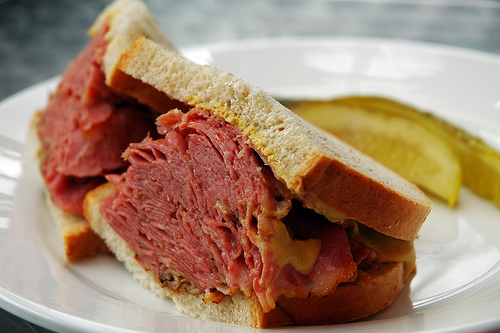 When lunch was complete, we headed over to a local European grocery store to pick up a few essentials!  Chorizo, Manchego cheese and a baguette, yes, these are essential items for a weekend supper!
As we made our way back to our car, we stopped for some artisan gelato!  The most unique flavors to choose from!
We drove to Mount-Royal Avenue for some one-of-a-kind shopping!  The most unique thing about Mount-Royal shops is that they are not chain stores and you find the most unusual and different items.  I found some great pieces to add to my fall wardrobe.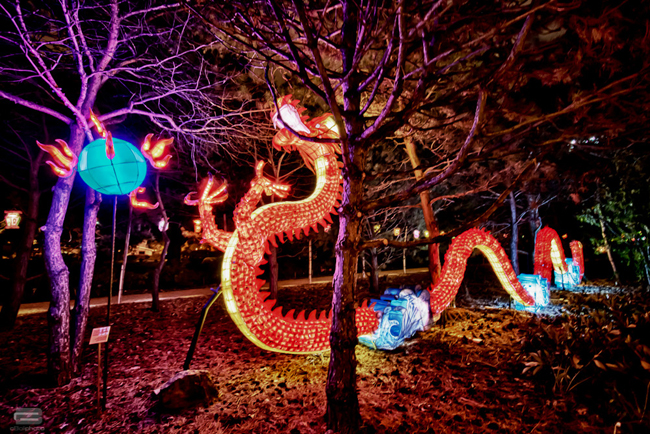 We weren't done yet!  We then made our way to the Botanical Gardens for a tour of the Chinese lantern festival just as the sun was starting to set.  This is the most perfect time of day to visit the festival as the lanterns really stand out but you can still benefit from the natural light to see the greenery of the gardens and the colorful bushes and flower beds.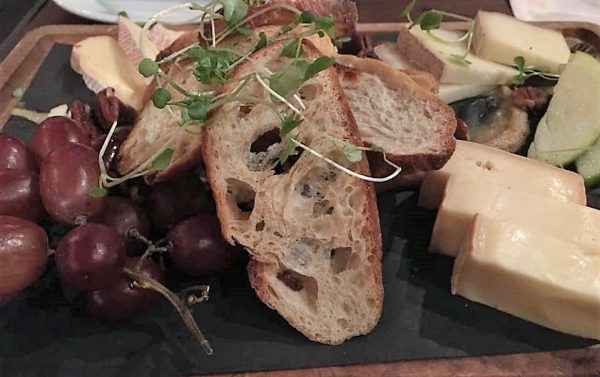 Once back home, we set out our cheese and deli plate with a gorgeous bottle of red wine and watched the new Breaking Bad movie, El Camino.
Sunday was all about the family!  We celebrated Thanksgiving with a traditional dinner that included Turkey, stuffing, mashed potatoes, roasted potatoes and green beans. The traditional pumpkin and pecan pies were on the menu for dessert!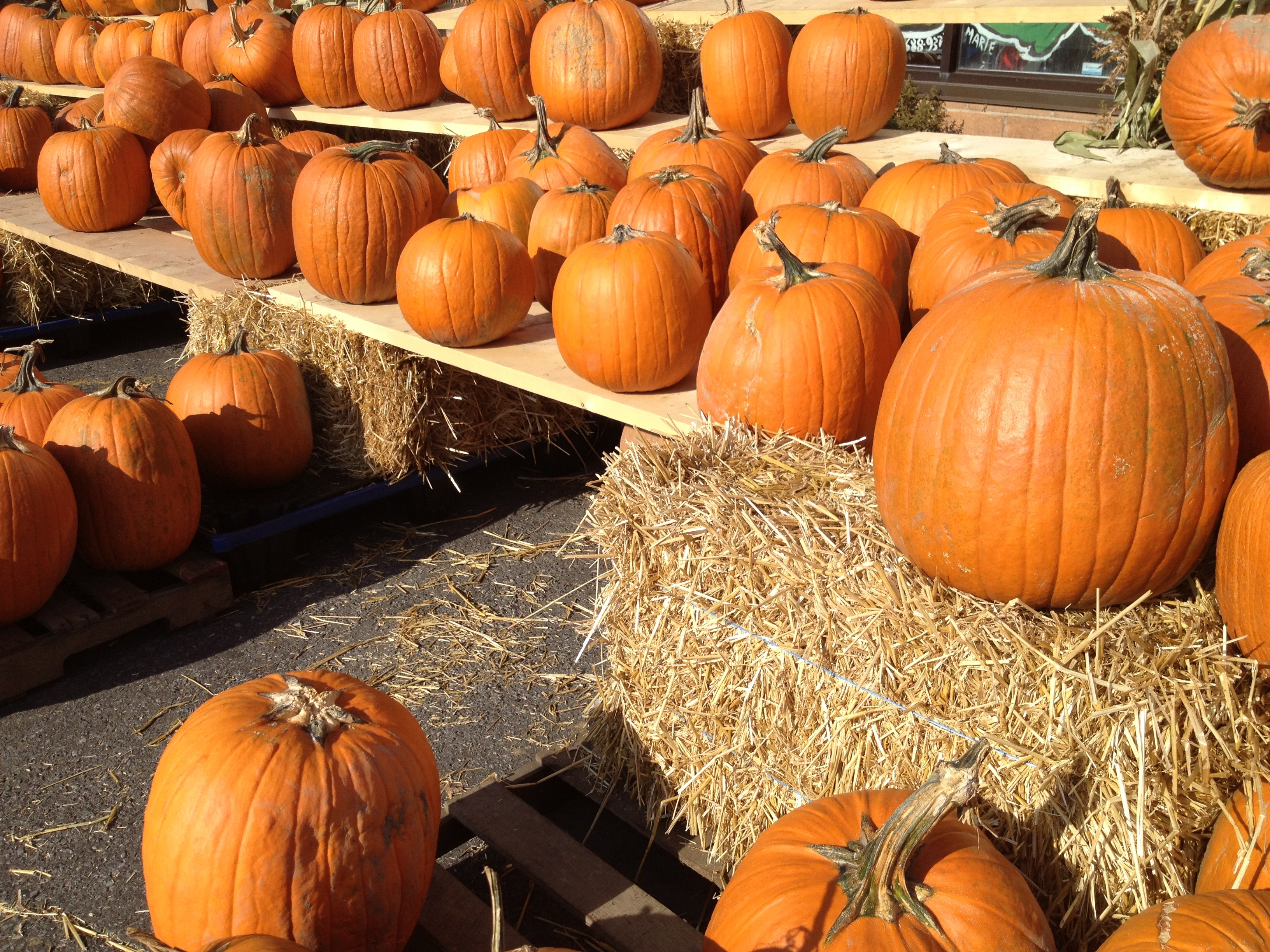 On Monday, perhaps still suffering from our food coma, we woke up late.  We enjoyed a fall breakfast and pumpkin picking at a local farm.  Some of the pumpkins will be used to make jack-o-lanterns while others will be used to make delicious pumpkin soup.  Monday night was my date night! My husband and I celebrated fourteen years of marriage!  We went to a very trendy restaurant called Grinders on Notre Dame street.  Notre Dame street is known for having some of the best restaurants in North America!  It was a treat to enjoy local Quebec products in such a beautiful restaurant.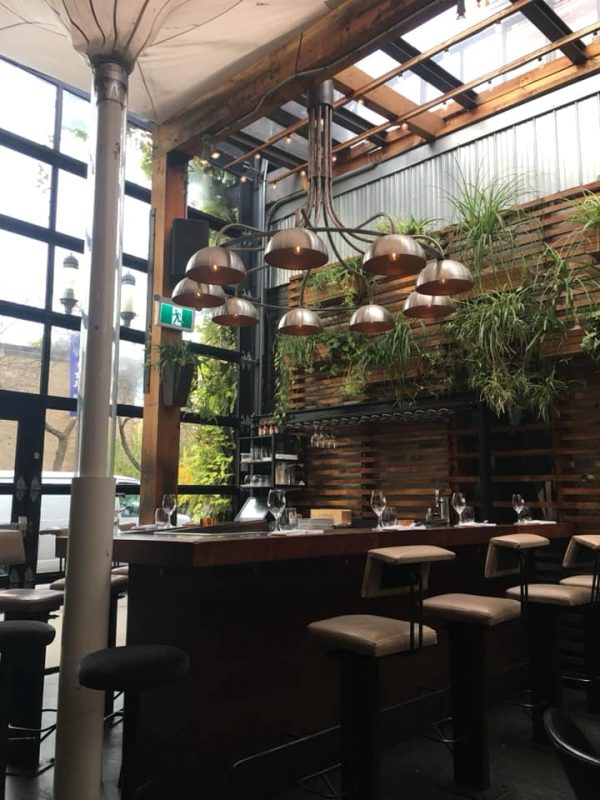 It was a spectaculars long Thanksgiving weekend and I am delighted to share these activity ideas with all of you!  Join us and get a colorful taste of Montreal!
Be part of us this fall too and learn English and French in Montreal! 
Comments
comments