Every week, EC Montreal meets with its departing students to get feedback on their language adventure.  We rely on this feedback to improve our services in all areas.  This week, we met with students from Colombia, France, Korea and Taiwan.  This is what they had to say about their EC experience: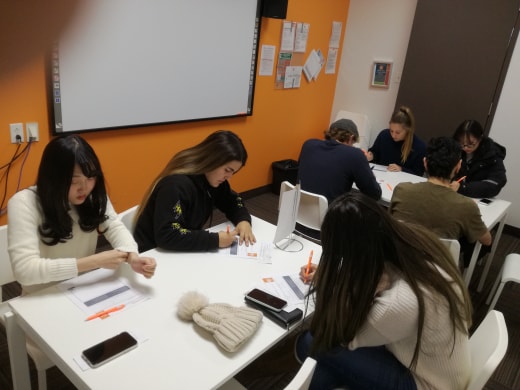 I like the idea of speaking with people from different countries but sometimes there are many people with the same native language and that could be boring.  If it is possible, would like that mix more the classrooms but besides that, it was a good experience.  Camilo from Colombia
I chose this destination because I wanted to know Canada and I like the European culture.  Montreal has beautiful architecture.  This experience was amazing.  The school was very good.  I learned so much.  I have improved my listening, speaking and writing.  I would recommend EC to a friend.  Monique from Colombia
I came here to improve my English and to discover a new lifestyle.  In my life, I only tried English class from France and I can say, I really prefer to study here.  The teachers are efficient and really kind.  The way to learn is different and liberal.  You don't have pressure being at school.  Guillaume from France
I chose this destination because it is near my home. I learned English and I improved a little because my term was short.  I liked all my classes.  I would recommend EC to my friends.  I made new friends from Mexico, Colombia and many more countries.  I twas my best experience in Canada and thanks to my teachers and my classmates.  Yujin from Korea
The teachers are very kind and considerate.  They teach very well.  The classmates are friendly and warm.  My English is improved a lot.  I really appreciate that.  Thank you everyone.  Kai Ting from Taiwan
Thanks for choosing Montreal ESL !!  We wish you a good trip back to home!
Comments
comments