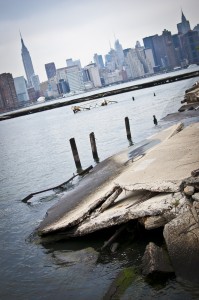 There's so much to do and to see in New York that even residents of 30 years haven't seen it all.  That's why we offer students at our schools tours into the less explored parts of the city.
Yesterday we took a small group of students on a photo tour to the Greenpoint Pier: an area of Brooklyn on the East river with epic views of Manhattan.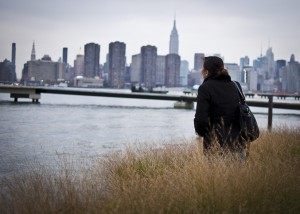 It's a neighborhood with a distinctive feel.  Industrial-era factories sit just on the edge of the river.  Smoke stacks loom heavily on the gray horizon and old Polish men fish for their dinner from the dock.
But Greenpoint has not been free from the same changes which have swept the rest of the city.  Many of the factories have been gutted, filled with million dollar loft-style condos. Film studios have popped up like daisies, eager to take advantage of the neighborhoods distinctively gritty, more-New-York-than-New-York feel.
Do you enjoy explorations off the beaten path? When you travel, do you limit yourself just to what you find in the guidebook?
Comments
comments