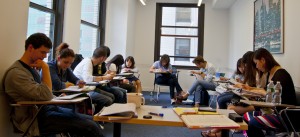 by Sarah Weekley
So, you are an English language student who is considering an exam preparation course.  Perhaps you need an exam as a requirement for work, school, or immigration purposes, or you may simply want a measure of your language skills to boost your resume.  How do you wade through all of the acronyms and decide which is the best exam for you?  Let's take a look at six well-known English language exams: TOEFL, TOEIC, IELTS, FCE, CAE, and CPE.
One point of consideration should be the aim of the test and how you expect to use it.  TOEFL and IELTS are tests of Academic English*; FCE, CAE, and CPE are considered General English exams; and TOEIC is a test of English for the workplace.
The exam format is another important factor to consider:
The TOEFL iBT (Internet-based test) is taken exclusively on a computer.  Test-takers answer multiple-choice questions about academic texts, conversations, and lectures.  They are also scored on "integrated skills" in the Writing and Speaking sections.  They are expected to write two academic essays.  It takes about 4 hours.
IELTS is taken as a paper-based test with an oral interview.  As on the TOEFL, test-takers answer multiple-choice and multiple-matching questions about academic materials.  The Writing test involves describing a visual (chart, graph, etc.) and one essay.  Candidates respond to questions and prepare a 1-2 minute talk on a given topic in the oral interview.  The total test time is under 3 hours.
The TOEIC is also a paper-based test with Reading and Listening sections (Speaking and Writing tests are also available).  Test-takers answer multiple-choice questions about short texts and recordings with a business theme.  The test lasts around 2 hours.
FCE, CAE, and CPE are exams of general English skills.  These may be administered in paper or computer format, depending on the testing center.  The speaking test is given to pairs of candidates by an examiner.  The exam consists of five papers: Reading, Writing, Use of English, Listening and Speaking.  The Writing paper may ask students for various formats such as letter, report, proposal, or story.  Test times, including speaking, range from 4 to 6 hours.
Scoring may be another important factor in the decision of test takers.  TOEFL, IELTS, and TOEIC are scored on a scale.  This means that different businesses and institutions may set different requirements for acceptance.  Most programs request from 72-100 out of 120 on TOEFL, a band 5.5-band 7.0 (the top band is 9) on IELTS, or 785-900 out of 990 on TOEIC.  The lower end of each of these ranges roughly corresponds to a B2 level on the Common European Framework (CEFR).
FCE, CAE, and CPE are each pitched at a specific CEFR level—B2, C1, and C2, respectively—and it is possible to get a passing or failing grade.  Those with a superior score on FCE or CAE receive a certificate stating that they demonstrated ability at one level higher.
Finally, FCE, CAE, and CPE certificates never expire.  Most institutions will not accept TOEIC or IELTS scores which are more than two years old, and TOEFL score reports are not issued after two years.
For more information on IELTS, FCE, CAE, and CPE, visit http://www.cambridgeesol.org.  For more information on TOEFL or TOEIC, visit http://www.ets.org.  Be sure to check out our exam preparation courses at EC New York.
*IELTS also has a General Training module.
Comments
comments