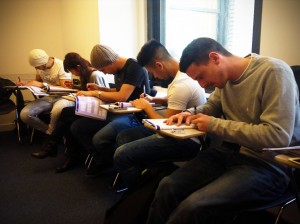 Of all the skills, being able to write in a second language is for many, the single most difficult skill to perfect. Even non-native speakers who have achieved a high degree of fluency can still find writing extremely difficult. As well as being a very difficult skill to master, writing becomes harder still when you have to write something under stressful, timed conditions, such as those in a level test. However, don't despair as there are a number of things you can do which will help you improve your writing skills. Just remember these simple tips:
Tip 1: Preparation
The first thing you should do is read the question carefully. This may seem obvious, but many students lose marks because they didn't follow the instructions that were asked or neglected to include all the required information in their answer. The first thing you should do before you start answering the question is to make some notes, especially notes on the specific information that you have been asked to include. For example, if you are asked to write a letter requesting information about an event etc, then ensure that you understand exactly what information you need to request.
An additional point to consider is to make sure that you understand the register. For example, are you being asked to write a formal letter or an informal email? This is especially important when writing formally and you should remember not to use contractions (won't, can't etc) and also other informal language, such as slang. The key point here is to remember who the audience is. Just to be clear, the audience refers to the intended reader and not the teacher who'll be marking your test paper!
Tip 2: Organisation and Structure
Once you have clearly identified all the information you have been asked to include and given thought to the audience and appropriate register, the next step is to begin organizing your ideas into a logical sequence or structure.  Here, you need to think about your introduction, which is where you will outline your main ideas and which will be presented in the middle/body of your paper. The middle section is where you present your main ideas in more detail and what you write here should follow logically from the introduction. Finally, you should think about your conclusion, which should serve to summarize the middle section and also bring everything to a close.
Tip 3: Vocabulary and Sentence Structure
While the vocabulary you need to use will depend on the particular context you are being asked to write about, there are some general points which can help you regardless of the exact context. Firstly, review conjunctions before the test as these will help you to join up and connect your sentence ideas and can help turn an average piece of writing into a good piece of writing.
Comments
comments