Has anyone ever asked you for directions?  If so, were you able to provide accurate directions?  You might say most people have a Smartphone and therefore would not need to ask for directions.  Well, let's assume their handy Smartphone is not on hand.   Would you be able to give the stranger clear and precise directions to their destination?  Giving directions in English is easier than it sounds.  Nolan's Upper Intermediate students practiced this skill on a recent field trip to the Highline, the elevated park stretching from Gansevoort Street, three blocks below West 14th Street, up to 30th Street, through the neighborhood of Chelsea.
The theme for the week was "Transport" so the Highline seemed like an ideal destination for a field trip connected to this theme.  Students had to record each part of their journey from EC to the Highline, from the names of streets to subway trains and stops with the final objective of writing clear directions to this popular New York site.  This task proved more challenging than expected, especially for students who admitted to being geographically challenged.
Once the class arrived at the Highline, they spent some time taking photographs before finding a seating area in which to discuss some questions and statements about transport, both in NYC and in their own cities.  The controversial question of "are men better drivers than women?" also came up but the guys in the class did not agree with this stereotype (and the fact that their partners were female had nothing to do with it). The majority of students said that they thought the NYC subway system was both efficient and easy to use and, with one or two exceptions, felt that cab rides in the city were cheaper than in their countries. Finally, there was an interesting reading on the history of the Highline.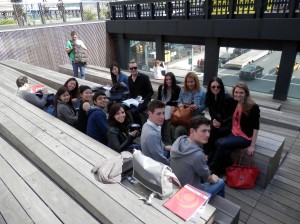 Did you know?
"The High Line was built in the 1930s, as part of a massive public-private infrastructure project called the West Side Improvement.  It lifted freight traffic 30 feet in the air, removing dangerous trains from the streets of Manhattan's largest industrial district.  No trains have run on the High Line since 1980. Friends of the High Line, a community-based non-profit group, formed in 1999 when the historic structure was under threat of demolition. Friends of the High Line works in partnership with the City of New York to preserve and maintain the structure as an elevated public park."
Source:  http://www.thehighline.org/about/high-line-history
Comments
comments