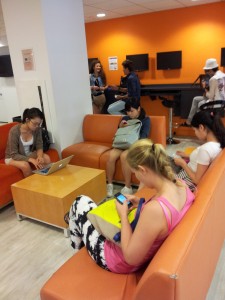 By Jamey Sadownick
We are often glued to our smartphones these days. Instead of playing Angry Birds or buying everything you can on Groupon, why not use your smartphone or tablet to help you learn English?
Here is a list of the top 5 Apps for English Language Learning:
1. Wordbook English Dictionary and Thesaurus ($1.99) – Every student should have an English-English dictionary. Instead of lugging around a heavy paper dictionary, why not have the English language available at your fingertips? With one click, you can find a definition, listen to the correct pronunciation of a word, and more.  There's a thesaurus so you can find similar or opposite words. You can click on the "Word of the Day" to learn new vocabulary, and there are also games and puzzles to help you learn.
2.. Heads Up  ($0.99) – This is a really fun game to practice English with your friends. With a wide variety of categories to choose from, a word will appear on your phone or Ipad that you show to your friends. Your friends give you clues and you must guess as many words as you can before time runs out! This game was featured on the "Ellen" show. For Intermediate and above students, I highly recommend trying this out!
3. Scramble With Friends (Free) – This is another word game that you play with others online. You are given two minutes to make as many words as you can with the letters given. Then your opponent is given a chance to make as many words as they can with the same letter set. Whoever gets the most points (and the best words) win.
4. Vocabulary HD – A great way to increase your vocabulary. This app includes over 500 words and five levels of difficulty. You can listen to the pronunciation of each word, as well as look at sentence examples.
5. Business English Pod ($0.99) – Enhance your Business English language, whether it's to learn how to argue in meetings or learn English idioms to describe success and failure, this app can help the Business-minded student. Of course, if you want to Learn English for Business, EC has courses to help you!
Whichever app you try, a little extra practice each day will help you improve dramatically!
We wish you success in your language learning!
Comments
comments