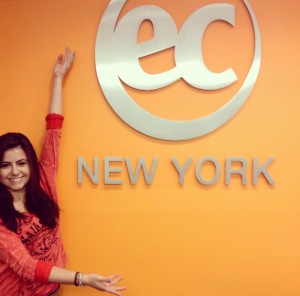 Isadora Cardoso is a student in Emily's Write Now elective class. She studied in EC New York's Intensive Course. Here is her blog:
EC New York is located in the main cultural center in the world, not only in New York City, the art capital, but also on Broadway in Times Square.
Some advice to enjoy your free time without going too far is  going to watch some musicals.  For example:
-The Lion King; one of the most popular Disney musicals.  "Birth, growth, maturity, decline:  Nothing is immune to change, not even Disney animation."  -The New York Times
-Chicago; the most entertaining musical of the decade!  "This show is a musical exploration of murder, greed, corruption, exploitation, and treachery."  – The New York Times
-Mamma Mia; the smash hit musical based on the songs of Abba.  "A sensation!  Just sit back and let the joy sweep over you!"  – New York Post
There are not just musicals around here.  You can also visit museums like:
-The Museum of Modern Art at 11 W. 53rd st
-The Metropolitan Museum of Art at 1000 5th Ave
There are subways near EC New York which go to these museums, but if you have any problems or questions you can ask at the front desk (they always help you!)
So, try to enjoy the art capital and go visit some museums or watch some live musicals!
And check out our website for information about our basic English classes in New York!
Comments
comments