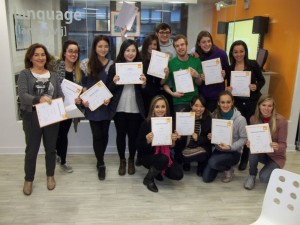 You're running down the streets of New York, carefully avoiding the icy patches and slippery obstacles. The adrenaline is pumping through your veins. The clock stops. It's 8:44 am and you've just made it in the nick of time to your English course. Sure, not every morning feels like you're competing in the Olympics, but the Winter games and EC English courses are more alike than different. Check out the list below to see just how similar they are.
1. Both the Olympics and EC host people from around the world. This may seem quite obvious, but this is the heart of both the Olympic spirit and the EC spirit. While EC and the Olympics have different end goals, to improve English and to highlight athletic ability, respectively, the ability to create an experience for international people from around the world is magical! It's important that you step out of your comfort zone and take a moment to meet someone from another country. This can be a life-changing experience!
2. New challenges are always appearing. Did you know that this Olympics was the first time that mixed-team figure skating and luge were introduced? Similarly, in learning English, you will have new challenges all the time. The key is to not get overwhelmed by the new obstacles, but to grow from them. Have you ever taken a level test and not known how to answer a grammar question? Instead of being disappointed, take this as an opportunity to develop your English by asking your teacher or classmates. This will not only improve your own English skill, but also encourage you to seek out challenges whenever you come across them.
3. Learning English is a team sport. Have you ever imagined how it would be to learn English from a computer? Not fun! Languages are meant to be spoken and used with others, so it makes sense that you need to depend on others to help improve your own English. Lucky for EC students, our Intensive English courses allow you to develop your English in useful contexts with other students. Just like the in a biathlon mixed relay, you're only as good as your teammates!
4. Learning English is a unifying feeling. The end of every Olympics is amazing. All the countries come together to celebrate their accomplishments and congratulate one another. At this point, the focus is not on nationalities, but on the greatness that has just transpired. Graduation day at EC New York is similar. Just look at the faces of our graduates every Friday and you can see how successful they have become in learning English. No matter where they have come from, English has brought all these students together. No matter what level or medal they have achieved, all students and athletes can leave feeling proud of their accomplishments.
So if you've only recently though about taking English courses in New York, now is your chance! Take the giant leap into the unknown – you may be surprised by how amazing your experience is!
By Bindu Varghese
Comments
comments