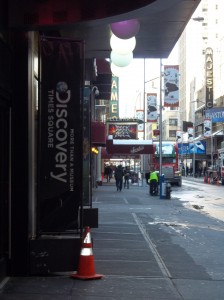 New York is home to some of the best places in the world to take in art, culture, history, and photography. Museum visits also offer a great way to brush up on your English skills as well (whether that be listening to audio tours or meeting a friend for conversation practice while touring a gallery).
You can peruse classic artifacts and paintings or enjoy fantastic skyline views from the rooftop garden at the Metropolitan Museum of Art. Alternatively, and for a larger-than-life perspective, you can tour the biggest collection of dinosaur fossils or take a 3-dimensional tour of the universe in the Rose Center for Earth & Space at the American Museum of Natural History.
The Cloisters, set in upper Manhattan's Fort Tryon Park, holds medieval architecture collections belonging to the Metropolitan Museum of Art. The location has beautiful views of the Hudson River and stunning grounds that lead to a replicate castle from the medieval period. Visiting this gem, it's hard to believe you are still in New York City!
Looking for something off the beaten path yet quintessentially New York? Check out the Tenement Museum on the Lower East Side. This is accessible by guided tour which can be booked through the visitors' center at 108 Orchard Street. The tour will give you the American immigrant experiencing, showcasing what it was like to live as an immigrant in New York City during the 19th and early 20th Centuries.
Finally, just a few blocks away from your English Course in New York, you will find Discovery Times Square. This unique attraction has interactive exhibits which piece together fragments of history in a remarkable presentation. "More than just a museum, DTS is the destination for discovery through unique and immersive exhibits in New York."
Whatever your preference, there is a museum in this city you will enjoy. Many offer student discounts so be sure to check the website before planning your visit!
Comments
comments