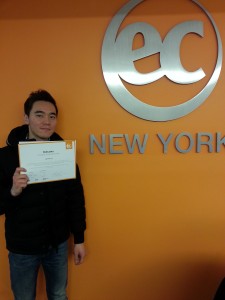 Daeyeop Lee studied in EC New York's Academic Year program. 
For 3 months at EC, all staff have given me a lot of help and unforgettable memories. Before the graduation, I want to say my story at ECNY.
While studying at ECNY, I could focus on studying English, but also I have done a variety of activities with my friends whose nationalities were varied. After class I usually hung out at several corners of NYC with my friends. As you know, there are a range of famous places and restaurants to visit with friends. This time was really useful for me to practice English and comprehend many kinds of cultures. On this Sunday, I will be going to Peru to start my journey for approximately 3 months. I am excited that I can meet my friends, who I met at ECNY, in their countries. ECNY has given me priceless memories such as these.
I would like to give a special thanks to EC staff. I was disappointed at first when I knew my level after taking the entrance exam. However, my tutor Helen and all EC staff sincerely helped me in improving my writing skills and gave me invaluable advice in adjusting to my new life here. Without their kindness, I can only imagine what my life would be like now.
The time has already passed and it is time to graduate. I would like to thank all my friends who have helped make my time here enjoyable, here in the heart of the world. I hope that EC staff and my friends will always be happy.
Thank You!
Daeyeop Lee
Nationality: South Korea
Age:25
Comments
comments