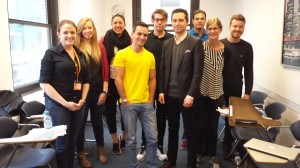 Do you need English for your job? Do you want to learn how to write a CV and cover letter in English? Do you want to learn English used in the workplace?
EC New York's English for Work course might be for you! English for Work students have specialized elective classes that focus on a variety of business topics, including recruiting, business communications, technology, managing conflict, finance and marketing.
Additionally, you will learn specialized business vocabulary, read case studies engage with business-related media. You'll have plenty of opportunities to practice your new language with speaking and writing activities, group projects and presentations. You'll simulate business meetings and negotiations.
One of the best parts about this course is that everyone in your class has a similar goal; you'll all be working together to excel in your field. Who knows, maybe you'll find a business partner in your class!
New York is a capital city for business, innovation and technology. There's no better place to study Business English!
For more information, check out our English for Work site, or talk to the Academic Department.
Comments
comments