This month's EC AY Lecture Essay winner is Zainab Hamoud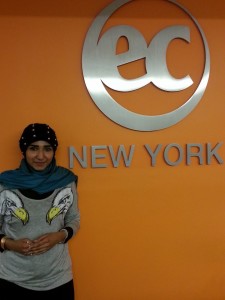 Zainab studied in our English for Academic Purposes course.
Essay Task:  Please describe a local "green" initiative in your home country, city, town.  Have you volunteered there? Would you? Explain.
My home country, Saudi Arabia, has a lot of different green initiatives for one main reason. The reason is that my country's weather is really hot and humid, and the only effective way to reduce the heat and humidity is by having green lands everywhere. One of the most popular campaigns was on the east side of my country in my hometown. The campaign was about the old farms that no one was taking care of anymore.  Additionally, the main role was to clean the farms, get rid of the dead plants, and put new ones in their places.  The idea was to take advantage of those farms and bring them to life again.  By doing that, we would have reached our goal by having greenery everywhere.  The volunteers were mainly based on men and women, but on different days.  For example, if the men went on Saturday, the women would go on Sunday.  Moreover, the women had different roles than men.  Men had to do the extremely difficult jobs and the women helped clean and cultivate the land.  I had volunteered with them and the farms were fixed in a short time because there were more than 200 people working on each farm during different shifts.  Ultimately, it was a great experience, especially to see all of those people who cared about their own town.
Comments
comments