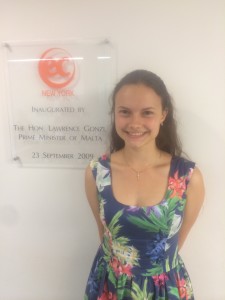 Sveytlana is a Russian student who came to EC New York two weeks ago for General English classes. Although she studied at EC New York for a short time, she was able to make a 2% improvement in her English and was able to reach the next level at EC New York. Although she's gone, she's left us with some great advice and feedback about EC New York.
"My favorite things about studying at EC New York were the classes. There is a lot of speaking and discussion. There were wonderful topics, interesting ideas, and an amazing way of communication in class. I would advise students that to improve your English you shouldn't forget that your main target is to get new knowledge and new information. You should study carefully, learn new words, and be open to communication with others in English."
Thank you for your advice, Svetlana! We are so happy that you studied with us at EC New York, and we wish you the best as you travel to EC San Francisco!
Check out our website for information on our full immersion English programs!
Comments
comments