On Friday, August 15th, activity leader Emily took over sixty students on an excursion to Coney Island, in South Brooklyn.  It was a great evening filled with rides, hot dogs, music, and history.
We started our journey on the long subway ride from Times Square to Coney Island.
Once off the subway, we went to Nathan's for world famous hot dogs and french fries.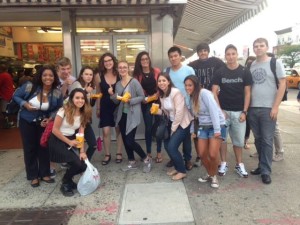 After we filled our tummies, we hit the park!  We went on the Cyclone, an old historic roller coaster built in 1927.  It was a bumpy, but fun ride.  We went on other rides, including but not limited to the Wonder Wheel, 360, and bumper cars.  We even danced on the boardwalk to live music!
Comments
comments