Mika Takemura is a university student from Japan, majoring in management. She is currently learning English at a low intermediate level and has been here for two months already, with four more months to go. Mike shared with us what she loves about EC New York and living in New York City.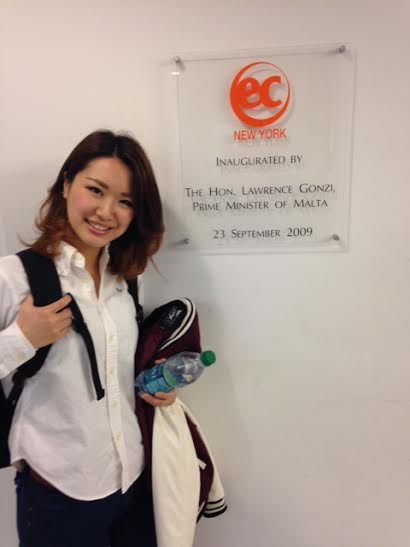 Why are you learning English?
"I need to use English for my travel agent job. I will start my job in April."
Why EC?
"Because when I saw EC's picture in Japan it was so stylish and I liked the orange color. And you have aa lot of activities after school, so I decided EC."
Why New York?
"Because I like New York when I watch movies in Japan. I like places in New York!"
What do you like most about living in New York City?
"There are a lot of kinds of people, like American, Chinese, Korean. I feel a lot of culture in New York."
What do you like most about EC NY?
"Everyone is friendly and kind and EC students like studying English and study hard."
What advice would you give someone who is learning English?
"Don't be shy to speak English. Before I was so shy when speaking, I was afraid to ask something in English! But now, I am not shy."
Fun facts about Mika:
Mika's favorite food in Japan is sushi.  Her favorite food in New York is pancakes!  Also, she loves Lays chips, and the wide variety of flavors offered.  She especially likes the honey BBQ flavor- "it's so awesome!"
Would you like to improve your English like Mika?  EC English language center in New York offers programs just for you.
Comments
comments