Clement Beauperin completed three months studying English at EC New York. During these three months, he improved his English by an incredible 89%! That's a huge accomplishment. Clement shared his experience at EC and what helped him with his success.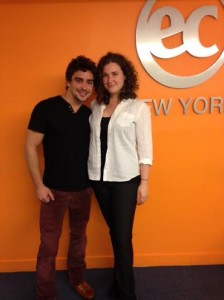 What did you like most about studying at EC?
The organization and the staff is very good. There are a lot of events, and it's really easy to meet people.
Why are you learning English?
I need English for my job, and I wish to write some scripts in English. I have to go again for three months to another EC school to improve my English even more. Also, I'm learning English for me.
Why EC English?
My job in France chose EC. I work as an assistant producer for movie advertisements.
Why New York?
I just wanted to go to America, and I was deciding between Chicago and New York City. I asked my friends which I should choose and they told me to go to New York City. It's the experience of a lifetime.
What do you like most about living in NY?
Brooklyn! I love Brooklyn! Especially Bed-Stuy. It's the cliché of America for me.
What advice would you give to a student who wants to improve their English?
Don't meet people who speak your own language and go out and chill with everybody. Say yes to everything; anything can happen to you. Just enjoy. It's the best to improve English. Also, live in Brooklyn and share a house with people from all over the world.
Fun facts about Clement:
He is an excellent chef! His favorite food in France is parmentier, and his favorite food in the USA is pizza.
You can improve your English like Clement!  We offer great programs to learn English for academic purposes in New York.
Comments
comments