Eva Cassetta studied at EC New York for a quick two weeks and had a great experience to share with others.  Here is what she had to say: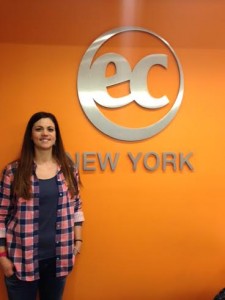 "Visiting NYC and studying English language were two of my good proposals for this year, 2015.  With this experience I achieved the first one, and and i'm my way to the second one, thanks to this EC course.  (Even if two weeks are too short.)

Thank you for your competence, your organization, and for the opportunity to meet people from all over the world.

Compliments for the location, it's perfect!

Classrooms are very well equipped and lunch are as well.

I'd recommend EC School to my friends for sure, but I told them to spend four weeks at least in order to get a significant improvement."
Thank you, and good luck, Eva!  You can improve your English like Eva and take intensive English courses in New York.
Comments
comments