Spring has (almost) sprung!  The weather is warming up, and the city is buzzing with possibilities!  Here are three ideas for an awesome weekend in the city:
1.  Second-hand shopping
Thrift stores are great places to find funky clothes and accessories for a fraction of the price.  Part of the fun of second-hand shopping is going through piles of clothes until you come across something perfect.  EC staff's personal favorites are Beacon's Closet (located in Williamsburg and Park Slope), Buffalo Exchange (Manhattan and Williamsburg), and Housing Works (locations all over the city).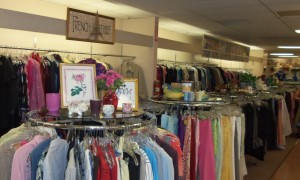 2.  Macy's Flower Show
Only six blocks south of EC is the Herald Square Macy's, which was until 2009 the largest department store in the world.  Ever spring, the large atrium of the store is decorated with exquisite flower arrangements, creating an aura of the arrival of spring.  You can also see the beautiful flowery window displays outside by Herald Square.
3.  A bike ride through Prospect Park
Did you know that Prospect Park, Brooklyn's largest park, was designed by the same architect who built Central Park?  Upon walking or biking in the park, you will notice many similarities between Prospect Park and it's sister park in Manhattan.  There are gorgeous (and flat!) bike paths and walking trails to explore.  As a bonus, on Saturdays, there is a beautiful local farmer's market at Grand Army Plaza, which is the entrance to the park.
EC is a New York ESL school where you can improve your English!
Comments
comments