Kazuki Itoda completed his six month study at EC New York. Wow, that is a long time! He began in elementary and moved up to high intermediate. That's a huge accomplishment! Kazuki shared with us some information about himself, what he likes about New York, and his EC Experience.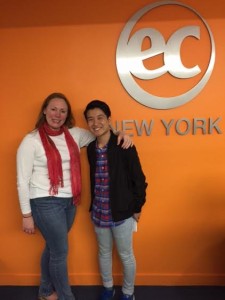 What do you do in Japan?
I worked at a baseball stadium. I managed many employees. We sold beer, hotdogs, and rice bowls.
Why are you learning English?
Because I want to be a travel agent and I want to work in the US. I want to take care of Japanese tourists. Or, I want to work in Japan and take care of foreign tourists.
Why did you decide to study at EC?
Because the location is so nice. Amazing. I saw the advertisement on the internet and there are many pictures of the classrooms and reception. The school is very clean, and this is important for me.
Why did you choose EC New York?
I've been here once before I studied here. I like Broadway musicals, museums, baseball, and fasion. New York is always up to date with fashion.
What did you like most about EC?
People. Teachers and classmates.
What do you like most out living in NY?
I can meet people from many different countries.
What will you do after EC?
An internship at a travel agency. I want to work at a Japanese company.
What advice would you offer to students who are starting at EC?
If you want to improve your English, you cannot speak your language too much. But to make friends it's very important.
Fun facts about Kazuki:
Hobbies: walking in the city
Favorite neighborhood/place in NY: Museum of Natural History, SoHo
Favorite in Japan: sushi (uni!)
Favorite food in NY: french fries
Would you like to improve you English?  EC offers New York homestay options.
Comments
comments