Oriol Iglesias from Barcelona just completed his nine week study at EC New York, after beginning at an intermediate level and finishing in high intermediate. Well done, Oriol! Here is some information about Oriol and his EC Experience: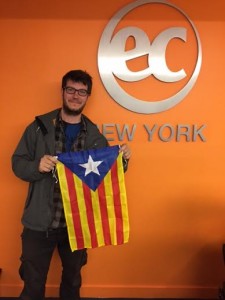 What do you do in Barcelona?
I have a baking and catering service in Barcelona.
Why are you learning English?
Because I like to travel and sometimes when I travel to English speaking countries (or non-Spanish speaking countries) I have to use English. I have a little English but not enough, and I have another business for rental apartments so I have to speak every day in English. Also, I am learning because I want to.
Why did you choose EC?
Because I wanted to come to New York and I wanted to live with a family or someone who I can practice my English with. I checked the internet and found EC.
Why EC New York?
Because I have never been here, and because New York is the capital of the world.
What do you like most about EC?
I met a lot of people from a lot of countries I've never been to. And I can speak English every day. Also, it's in the city center!
What do you like most about your NYC life?
All non-touristic places, such as the squat house. I like the real life of the real people here. I like to meet New Yorkers because they can show me real New York. Also, I live in a non-touristic neighborhood.
Fun facts about Oriol:
He plays the drums and likes to write about his travels, such as his trip to Thailand.
Favorite food in Catalonia: pa amb tomaquet (bread and tomato)
Favorite food in New York: bagels and lox
Favorite place in New York: Lower East Side
Like Oriol, you can improve your English for work and make new friends from all corners of the globe at EC New York ESL school.
Comments
comments