This blog was written by Minjung Chae, a student ambassador from Korea.  She is studying English at an upper-intermediate level.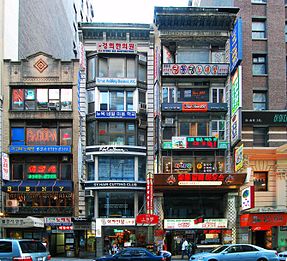 Have you ever heard of 'K-town'? You might think it is a kind of small town somewhere in the United States.  However, it indicates 'Koreatown' like 'Chinatown' or 'Little Italy'. Koreatown is a Korean enclave in Midtown Manhattan in New York City, centered on the block of West 32nd street between Fifth and Sixth Avenues. Of course, it is not totally the same as 'real Korea', but we are able to experience Korean culture, food and lifestyles indirectly. Its official nickname is 'Korea Way'.
As you know, I'm from South Korea, so I would like to recommend some places for you, because there are a lot of restaurants and bars in Koreatown. Firstly, if you are interested in Korean Chinese cuisine, you should go to Dong Chun Hong which is located in 312 5th Ave, New York. In Korea, we make Chinese food with our own Korean style. It is totally different from Chinese food. That is why we call the cuisines Korean Chinese food. It is a kind of fusion food.
Secondly, I would like to recommend Bangia which is located in 11 E 32nd street, New York. It is a Korean bar that they sell many Korean food and traditional Korean alcohol like Soju. There are a plenty of delicious cuisines, but I especially recommend Seafood Cheese Ddeokbokki. Although it is a little spicy for someone who don't eat spicy food very well, it is really tasty, or you can just ask them to make it less spicy. I also recommend Spicy Chicken Stew which is traditional Korean chicken cuisine.
First of all, I highly recommend Jongro BBQ which is located in 22 W 32nd street, New York. This restaurant is the best place where we are able to enjoy Korean BBQ like real Korea. I am pretty sure that you will be a fan of Jongro BBQ unless you are a vegetarian. I had brought many foreign friends to the restaurant and they were crazy about it. If you like noodles, you need to try to eat traditional Korean cold noodle called Naengmyeon. After eating BBQ, many Korean people usually have it. It is typical but excellent order. In addition, I am going to bring you to the restaurant in May 28th as EC New York activity! Please do not hesitate joining the activity! I hope you guys there.
I hope this information which I gave you would be helpful for you! If you are more interested in Korean culture or food, just let me know or ask me!
Would you like to improve your English and meet new friends from all over the world?  EC is a New York ESL center that has the perfect program for you.
Comments
comments