Alice and Ebba are buddies from Stockholm, Sweden who studied at EC New York for three weeks at an Upper Intermediate level. They shared some information about themselves and their EC Experience: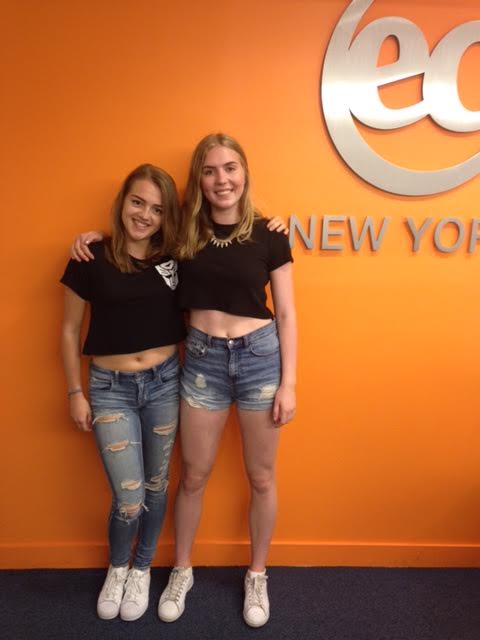 What do you do in Sweden?
A: We are in Gymnasium, which is the Swedish version of High School.
Why are you learning English?
E: I'm learning for my own sake. For me. Because I want to speak English well when I travel but also for work. I think it's a good thing for work. Also, because I don't study English anymore in Sweden.
A: We get to study English from a very young age, and now we don't have to anymore. I kind of miss it.
Why did you choose EC?
A: We looked at two different schools. We booked through an agent for language trips.
E: It was between this school or another school.
Why New York City?
E: I was here three years ago for a short trip during Hurricane Sandy, so everything was closed.
A: We have been planning this for a while. For two years! Also, we weren't old enough before.
What did you like the most about EC?
E: I think the teachers are great. It's such a big part of the learning process, having a good teacher. Funny teachers make it very interesting, and much easier to learn.
What do you like most about living in New York City?
A: Everything is open so late! Everything closes at 6pm in Sweden and it's dead. But here, it's always happening.
What's your favorite place in New York City?
E: Battery Park, at the tip of Manhattan. Lower Manhattan.
A: You feel such a difference when you breathe. In midtown, the air is tough. And when you go downtown the air is amazing.
Fun facts about yourself:
E: I practice synchronized swimming for many years. A lot of hours a week.
A: I don't like Swedish food. I love Indian food. And I really really like the huge salad bars here. It's amazing.
Congratulations, Ebba and Alice!  We'll miss you.  
At EC, you can take English classes in New York and meet students from all over the world!
Comments
comments