Fabian is a new Student Ambassador from Switzerland.  Here is some information about himself: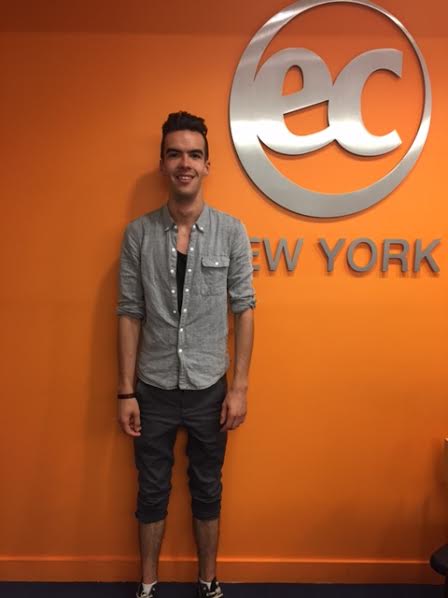 Where are you from?
I'm Swiss. I live in the North-East part of Switzerland, near the Lake of Constance.
Why are you learning English?
I like to socialize with people from all over the world, so it's important that I can speak English. Furthermore, it is important to speak English if you want to buy a classic car in America.
What do you do in your country?
I'm a car mechanic and I've my own garage in Switzerland. My garage is called "Flathead Records" and I fix everything from cars to bikes. Especially classic cars, Vespas, and classic motorcycles. Besides my business, I'm going to study economics this September.
Why did you decide to study at EC New York?
EC New York is next to the Times Square! What else?
What do you like most about EC?
I really appreciate the diversity of people in EC. For instance, I've known people from Japan, Colombia, or Saudi Arabia. It's amazing to meet people from all over the world!
What do you like most about living in NYC?
New York City is a giant playground, it's never boring. The energy, the size, the amount of people in the city- I have never seen something like that.
Where is your favorite place in NYC? (Both touristic and non-touristic)
Really nice places are Harlem, Chelsea, and Grand Central.
Do you have any hidden talents/skills?
I can milk a cow by hand. And somebody told me I'm a troublemaker. Actually, that's true!
What languages do you speak?
I speak Swiss German, German, and English.
What is your favorite food?
I prefer burgers and burritos.
Students should ask me about…
…Anything they want! Especially if they want to know something about cars or New York Hip Hop from the 90's.
Anything else?
Let's rumble in the New York jungle.
You can learn English in USA and be a Student Ambassador, too!
Comments
comments