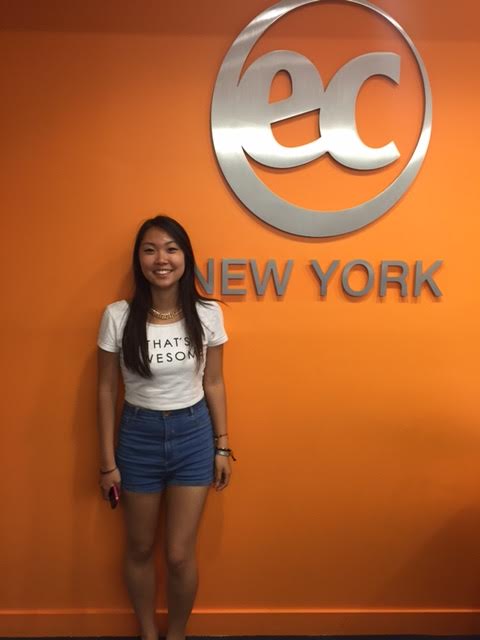 Where are you from?
I'm from Rome, Italy.
What do you do?
I'm studying languages in High School and next year will be my last year which means EXAMS!
Why are you learning English?
The reason whereby I'm learning English is very simple: I LOVE SPEAKING THIS LANGUAGE ❤
Why did you choose EC?
I chose EC because of the location! Walking around Times Square after having classes is just flabbergasting!
Why New York City?
New York has always been one of my favourite cities, that's why it was a MUST to go there. Moreover, I wanted to improve my English so why not match the two things!
What did you like most about New York?
I liked the particular atmosphere, the view, the attractions, the not-so-healthy food, the people…In other words, everything!
Share a memorable experience: One day, my friends and I went to a bakery in SoHo. They were in the queue for buying something while I was sitting at a table waiting for them. I started a conversation with a stranger next to me by asking if that bakery was famous. He was eating a "cronut" (a croissant with the shape of a donut) and before he left he gave me his last cronut as a gift. He was very nice and kind!! (This story is very American hahaha)
Where is your favorite place in New York City?
I don't have a favorite place because I liked almost everything in New York such as Central Park, Fifth Avenue, High Line park, Coney Island, Lincoln Center…
What advice would you offer to a new student?
I strongly recommend to go to the Luna Park in Coney Island and try the bunjee ball…It's amazing!! Also, try Nathan's hot dogs. They are delicious!
Fun facts about yourself: I laugh almost all the time even if there is no particular reason. In fact, some of my friends define me as "completely crazy girl". I can be very sarcastic and funny, that's why you have a lot of fun with me!
I would like to travel more and meet new people from all over the world, who doesn't want to do that?!
EC new York is a language center in Times Square, the heart of New York, where you can learn English in USA with other students from all over the world.
Comments
comments