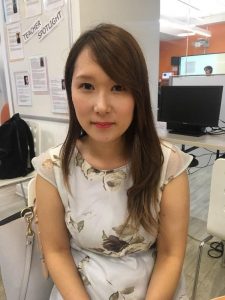 It's time to meet Naoko our student from Kobe, Japan. She took a few minutes to sit with us and discuss her experiences learning English at our center.
Naoko has recently graduated from her university and she is planning to start her new job in October. Her company is a foreign company, so she decided to come to New York to study English in preparation for this job. She expects that she will need to have a high degree of English skills in order to succeed in her new role.
She loves studying at EC New York because The teachers always pay attention to every single student and try to make classes interesting. They memorize the student's faces and names quickly.She feels the dedication and commitment of the teachers, and appreciates them. Also, New York is definitely not a boring city for Naoko! There are so many people from all over the world, that she has found many foreign friends here. She loves that New York is one of the most multi-cultural cities in the world and that there are so many things to do and places to hang out with her friends. Naoko enjoys going shopping and exploring the nightlife with her foreign friends.
Learn more about our ESL New York courses!
Comments
comments