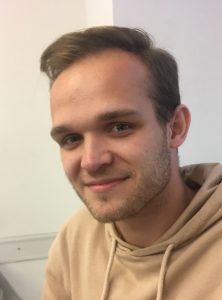 Mateusz Kuba Szczesniak is from Poland. He is a university student in Poland. His major is management. He has been studying English at EC New York since August 4th . He shares his experience at this school and in NY. Here is what he said:
English will help me to be better because it is one of the most important skills to get a good job in my country. Plus, I like travelling around the world. It is one of the most international languages in the world so I think that I can travel easily and enjoy talking to native people if my English improves. 
I decided to come to New york because i have a family here and it is good for me to visit my family and study English at the same time. There are a lot of possibilities in New York and there are a lot of things to do, so I'm never bored. Plus, I can meet lots of new people from all over the world, ti's a great experience.
My favorite part about EC is its teachers. They are always prepared for classes and they always try to make the classes interesting and fun. Also, the location of EC New York is amazing. it's is near a subway station and lots of famous sightseeing landmarks in New York. It's really easy for students to go wherever they want in the city after school. If you're new to New York, I highly recommend you try all the different cuisines and restaurants here. There are lots of different types of food, and there's nothing like it!
Share in a complete immersive experience like Mateusz and choose a homestay in New York to complement your English course.
Comments
comments