Sirin Keten is from Turkey. She is a medical student in her country. She had previously studied at EC San Francisco for 2 months before coming New York. Because of her great experience at EC San Francisco, she decided to transfer to EC New York and will continue studying in the Big Apple until September 8th. She shared her experience at EC and here is what she said: She is studying English because she needs English for her future job. There are many medical articles written in English and she needs to read them to get knowledge. She also needs to attend some medical conferences and they are in English. English is one of the most important skills for her future job.
She decided to move to New York because she thought she should try to live in different city in America. She likes New York because there are many kinds of things to do here. There are various kinds of options so that she can easily find what she wants to do. In addition, New York is one of the most multi-cultural cities around the world. There are many people from all over the world and she can easily get to know them. It is interesting for her to talk to those who come from different countries.
She really likes the staff at EC because they are always helpful and friendly. If she has any problems, the staff always tries to solve them in an efficient and friendly way.
She likes visiting famous places and hanging out with her friends in her free time in New York.
If you're interested in studying, ESL in New York, Sirin recommends seeing around the city and hanging out with your new friends. New York has a lot of famous places and every single place has different good points. She also recommends trying various kinds of food from different countries because New York has tons of restaurants from different countries and she can easily try them in the city.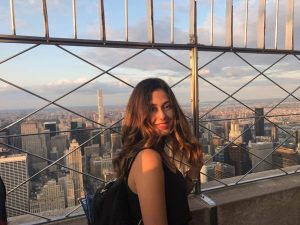 Comments
comments