According to Wikipedia, Service learning is an educational strategy that brings together meaningful community service with instruction to enrich the overall learning experience. Through volunteering, our EC New York students are able to learn about the community and culture of New York while using their developing English skills. The local community also benefits from the exchange as they get much needed support. So, what are some of the volunteering experiences that EC New York 30+ school has been doing?
We have done lots of different projects over the last few months. We've worked with the JASA senior center in Manhattan on several occasions. The senior center plans activities and provides meal service for local area seniors. Our students helped serve lunch as well as provided support and friendship with the seniors. The seniors of course, provided the authentic English conversation practice. Take a look at some of our pictures from these volunteering experiences!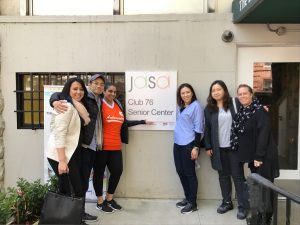 Our EC New York 30+ students volunteering at JASA Senior Center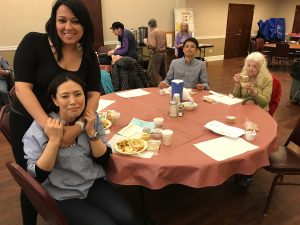 Our EC New York 30+ students served lunch and shared in conversation with the seniors at the JASA center.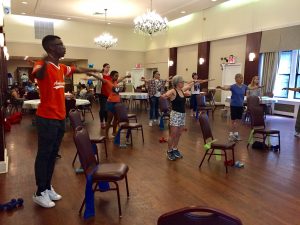 Our EC New York 30+ students joined the Seniors for some toning exercises. It was difficult but lots of fun!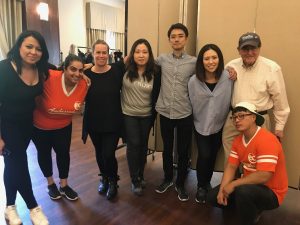 Our EC New York 30+ students had a great time volunteering and wanted to do it again!
Recently EC New York began to work with NY Cares, which is a larger scale volunteering organization here in New York. Through New York Cares, we were able to be partnered up with City Harvest. City Harvest is a food rescue that collects excess food from restaurants, grocers, bakeries, markets, and farms. Afterwards this food is distributed to New York city recipients. Most recently, the EC New York 30+ volunteering team was able to help serve 18,550 pounds of food to 400 people! This was a tremendous accomplishment. One of our students from Mexico, Guillermo, expressed how happy he was to be part of this volunteering service.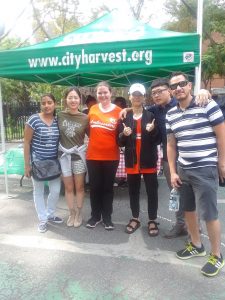 The team exhausted after their service, but happy to have made a difference!
Volunteering can not only help you build your leadership skills, but it can help you to learn more about the community around you. As all the volunteering services are done in English, what better way for our students to get outside the classroom and really use the language that they're learning in an authentic way!
If you would like to study English in New York, why not consider volunteering as well?
Comments
comments