Yuta Kimura is a 28-year-old student here at EC San Diego. He lives in Saitama, Japan. Yuta works at a whosle sale music company called Prima Music. Yuta sings Opera as a hobby on his free time. You can frequently hear him in the courtyard of the school impressing fellow students and passer-byers with his amazing vocals. In this interview, he will share with you some interesting information about his stay here and some helpful advice and facts to his fellow students.
Why did you chose to study at EC San Diego? ! I chose EC San Diego because my friend in Japan, who worked for an agent, recommended that I study English here.
What is your favorite thing about ECSD? The teachers! There are many good teachers in ECSD!
What would you recommend to new students? They should talk to teachers a lot, because if you talk to them, you can improve your English skills.
What is your favorite thing about San Diego? The beach! I love to surf! I met American friends because of surfing.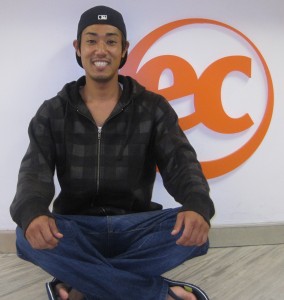 What are your plans after school here at EC San Diego? I'm going back to Japan. I have to find a new job, so that I can make enough money to go to Cananda, because I want to study business there.
Will you use the English that you learned here at ECSD after you return back to Japan? Yes, of course!
Comments
comments