If you appreciate the knowledge you have acquired over the years thanks to your teachers, Teacher Appreciation week which lasts from the 2nd till the 6th May 2011, is the week in which you can show your gratitude to your favorite teachers worldwide. 
Teacher appreciation week is not only a way for students to celebrate their teachers but also for people to learn more about teaching as a profession and its merits worldwide since teaching is done differently in each country.
Here at EC San Diego, we encourage students to let their teachers know what a great job they're doing!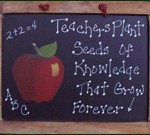 Comments
comments