Part of learning Eglish at EC San Diego involves celebrating the holidays of countries all around the world!  Swiss National Day is the national holiday of Switzerland, set on 1 August. It is an official national holiday since 1994, although the day had been suggested for the celebration of the foundation of the Swiss Confederacy as early as 1889.
The largest Swiss National Day event in the USA is organized and held annually by the Swiss Benevolent Society of New York. Usually held in Manhattan, New York, the event draws thousands of Swiss, Swiss-Americans and Friends of Switzerland from around New York, New Jersey, Connecticut and Pennsylvania.
Celebrations are also held in Washington, District of Columbia by the Swiss Club of Washington D.C. on the Swiss Embassy grounds, and in the Los Angeles suburb of Whittier, in Swiss Park. The Swiss Park celebration features Swiss cultural events and games, including a crossbow competition.
In San Diego, we have a celebration at the Swiss Park in Chula Vista today at 4:00PM!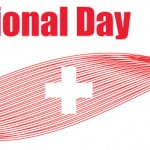 Comments
comments