Many of our students submitted again lots of interesting stories. This time they had to write an essay regarding the topic "If I was the president of my country". Akito Hiro received the award for writing the best story:
"If I was the president of my country, I would let Japanese people have more holidays and change their work life style.
"Do you know KAROUSHI".
KAROUSHI means death by overwork. In japan some people die due to work hard and people commit suicide because of business. This Japanese situation is absolutely unnatural.
Japanese have long been known as the hardest worker in the world. During Post world war2 our predecessors were urged to work to rebuild our country and economy. Most Japanese felt that we were not afford to take the holidays and the rest until our economy caught up with those of west.
Now Japan can catch up with the those of west and our economy has been rebuilt. But a lot of Japanese including me are still work very hard and devote their life to the work.
So I would establish the strict labor standard law which request people to have the continued two week holidays except for new year holidays and consume paid holidays without rest. And also I would establish a group which check to keep the law. People obliged to hand their schedule to the group find a violation, the company paid penalty and fine whose amount is one third of total salary a government and employee individually. And the company is published.
Through this law, I hope people to change their mind about relation to work and reduce the number of death by work."
If you think that you can write an even better story, you can take part in our next contest: Please submit your Story of the Week either individually or as a group, by Wednesday, December 7th at 3pm at the EC Front Desk and provide us with your name, age and language level. This week's topic: "If you could do or be anything you want for one day, what would this be? Good luck and have fun!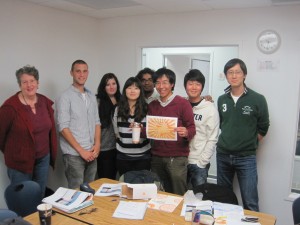 Comments
comments