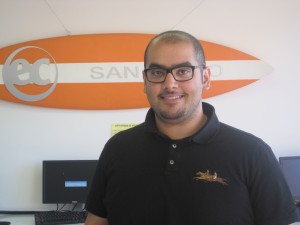 Sultan is from Saudi Arabia and has been at EC San Diego for the past year. We asked him a few questions and this is what he had to say:
TELL US WHAT YOU LIKE MOST ABOUT STUDYING AT EC SAN DIEGO:
I like the friendly environment of the school. Everyone is ready to help.
WHAT IS YOUR FAVORITE MEMORY?
I have had a lot of unforgettable memories. The whole experience is my favorite memory.
WHAT TIPS WOULD YOU GIVE TO NEW STUDENTS STUDYING AT EC SAN DIEGO?
Stick to "Only English" rule
Self study
Don't be shy to ask questions
Don't be afraid to make mistakes
Sultan will be transferring to University after EC. We wish him well.
Comments
comments